Robert Dick and Ulrike Lentz
"Are There?"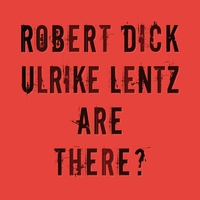 $12.00 | CD | Catalog #MUL037

"Are There?", recorded live, is a program of radiantly colorful, powerful and emotional improvisations by two flute originals, Robert Dick and Ulrike Lentz.
I had the pleasure to see the flute duo concert of the recording of Ulrike Lentz and Robert Dick in Autumn 2016. Just two instruments; both flutes. But what a wondrous variety in tone-colour and texture of sound!
The whole flute family was gathered. There was a constant change of instruments, combining all sorts of settings like bass flute with piccolo, Glissando Headjoint® flute (Robert Dick's invention) with alto flute, to name a few. There was a huge variety of playing techniques, actually all you can or even can't think of, or never heard before. The texture of the music was -to my memory- about transforming sound and tone-colour. There was a little bit of far-east flute story-telling and a mixture of "imitating" electronic-generated sounds on acoustic instruments. These were at times very funny. The pieces were mostly rather short, adding to the impression of a huge variety of musical textures. Ulrike was standing on the left side and Robert on the right.
It was a delightful concert but the only thing you keep from such an evening is a memory of the setting, some visual memory of the artists, a memory of feelings and impressions, and later, the whole experience gets romanticised.
I wonder how people must have listened to and received music some 140 years ago, when there were no machines to record and replay music. I think people must have had a more developed ability to remember, receive and concentrate. Today, we have access to all kinds of information immediately and from anywhere. We seem to lose the ability to focus on an independent subjective memory. Moreover, we avoid listening to music which subjects us to something not immediately inviting. We click away as soon as something does not match our momentary disposition of feelings.
Well, here is the CD of the concert of last autumn.
Some people say improvised music is only to be listened to live, and that it can not transport the spirit to a recording. I strongly disagree. It is a different listening, and the music, created in the moment for the moment, now gains a new dimension; the dimension of time. Now you can examine, interrupt, repeat, like observing a picture.
A litmus test for good, interesting music is to ask, what do you discover with repeated listening? Do you change your perception and can you experience something new over and over again?
Yes, you can. While I have listened to this CD many times, I am still on a new expedition every time. What a pleasure. Listening is a process using various approaches. Analytical, intuitive, not listening, being lost in thoughts, thinking, not thinking, being distracted, singing or imagining something with the actual music, becoming one with the moment, dissolving time…. Like a chameleon changing colour to its momentary surroundings, I change my way of listening to the development in the music. I have a fantasy about what the musicians were thinking while playing their first piece:
R: Let me take a deep breath and start with this partial tone.
U: I'll join you one tone up.
R: I'll make it a "real" tone with some vibrato.
U: I'll take a breath as well, repeat and we will make some partial tone banging.
R: Yeah, wonderful, keep it. I'll change into a multiphonic containing the same tone as before.
U: More banging, wo, wo, wo, wo, wo
Breathe together.
U: I'll take your first note from before.
R: I'll take yours but make it much more airy.
U: Lets start some kind of pulse still with a little bit of tone banging. Breathe together again.
R: I'll come up with some melodic movement.
U: I'll stay with the two notes from before.
R: My little melody stops down here and I'll hold this note on my bass flute.
U: I'll extend the colours of this tone.
R: So will I. Let's open the whole spectrum. Lets breathe (1:37).
U+R: Unison, lucky match. U: Its time to get up and away from that bass sound.
R: Right, I'll come up to you -even on this bass flute.
U: I'll stick to my two notes but enrich them with colours.
R: I'll start with partial tones, but now I feel I need more melodic movement. (2:10) Let's breathe together, we have a nice pace together.
R: I'll go back to the low and middle register and continue the melodic movement.
U: Here I'll just add to your harmonics.
R: I'll leave you alone.
U: There is a gap, I'll fill it with three fast notes and then two multiphonic third intervals (2:33)
R: Hello I'm back, even a third higher also with thirds.
U: Unison, and now we go into each one playing thirds. No, no short impulses please
R: Have we lost it?
U: No, we end it here with taking out the energy and say: tra tu gaaaaaaaa.
Are there? What.... does it mean?
There are... lots of meanings in this music.
Is it improvised or composed? Who cares?
Find your own interpretation of structure and non-structure.
Listen with an open mind, enjoy, go on an expedition of sound landscapes or an adventure story.
Listen... breathe... listen again, listen differently
Liner notes:  Matthias Schubert
More about Robert Dick
More about Ulrike Lentz