PUBLIQuartet / Soldier String Quartet
"In Four Color"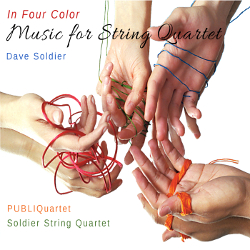 $13.99 | CD | Catalog #MUL027


The original punk classical repertoire, spanning deep Delta Blues of the 1920s to the far future, this triple CD features three hours of Dave Soldier?s compositions played by the PubliQuartet and his Soldier String Quartet with a wild range of guests.
CD I    PUBLIQuartet
1-5 String Quartet #1 ?The Impossible?    (op 3, 1987)
for quartet and drums/ percussion
with Satoshi Takeishi, percussion
 i. Open Hydrant
 ii. Walking on the 3rd Rail
iii. Ron Visits the Polymer Lounge 
iv. For His Bad Self
 v. She Put My Head Under the Water           
6-10 String Quartet #2 ?Bambaataa Variations?    (op 11, 1992)
for prepared quartet (paper clips, combs, brushes)
 i. His Legs Wobble
 ii. X-Linked Planet
iii. Nine Hundred Grandmothers
iv. Mudhead from Planet XYY
 v. Afrika Variations       
11 East St. Louis, 1968 (op. 17, 1999)
quartet and CD
12 String Quartet #3 ?The Essential? with Brad Garton (op. 21, 2011)
after the 2nd movement of Arnold Schoenberg?s 2nd Quartet
quartet with optional electroencephalograms
 i. Sample & Hold
 ii. Fractal Variation ?Benoit meets Arnold in 5 Dimensions?
iii. Fourier Transformations
iv. Integral
 v. 1st Derivative.
CD2   Soldier String Quartet
Laura Seaton, Dave Soldier, vln; Ron Lawrence, vla; Mary Wooten, cello; Michael Suchorsky drums
1 Sequence Girls (op. 1, 1985)
2 Paris 1919 (John Cale, arr. Soldier)
Shelley Hirsch, soprano
3-5 Three Delta Blues (op. 2 1986)
Moon Goin? Down (Charlie Patton), arr. Soldier
20-20 Blues (Skip James)
Preachin? Blues (Robert Johnson)
6 Five Little Monsters (1984)
Babylon Hair: Wiccans & Goths: Moshpit Locomotive: Beasties DMC: Curry Goat Stand
7 Lonesome Train
8 Sojourner Truth
9 Prelude
Ratzo Harris, bass
10 Ezequiel Saw the Wheel In the Middle of the Air
Amina Claudine Myers, piano, vocal; Napua Davoy, vocal, bass, Americo Mendez bass, Steve Napoleoni & Louis Bauzo percussion
11 If I had it to give (I?d give it to him)
Ratzo Harris, bass
CD3    Regina Carter, Dave Soldier, vln; Judith Insell, vla; Dawn Avery, cello, Tiye? Giraud, vocal & percussion, Jimmy Justice, vocal
1 Bo Diddley (Ellas McDaniel, arr. Soldier)
2 Here Comes the King (Raymond Scott, arr. Soldier)
3 Ugly (Robert Pete Williams, arr. Soldier)
Rebecca Cherry, violin solo
4 In Time (Sly Stone, arr. Soldier)
5 Boogie On Party People
Jonathan Kane drums, Valerie Naranjo balafon, Richard Bona bass
6 Water Babies (Wayne Shorter, arr. Soldier)
Regina Carter, Dave Soldier, vln
Robert Dick, flute, Valerie Naranjo vibes, Richard Bona, bass, Steve Arguelles, drums
Todd Reynolds, Dave Soldier, vln; Judith Insell, vla; Dawn Avery, cello, Jimmy Justice, vocal
7 N?Orleans
Rory Young organ
8 Michael Callen
Laura Cantrell vocals
Laura Seaton, Dave Soldier, vln; Ron Lawrence, vla; Mary Wooten, cello
with Jason White, Tiye? Giraud, Napua Davoy, Bobby Radcliff vocals, Myra Melford piano, Brad Jones bass, Leroy Clouden drums, Lenny Pickett, sax & clarinet
9 Uncloudy Day (Josiah Alwood, arr. Soldier)
Dave Soldier, guitar
10 Moanin? at Midnight (Chester Burnett, arr. Soldier)
11 Moon and Stars (Louise Johnson, arr. Soldier)
(separation here)
Jason White, vocals, Dave Soldier violin
12 Cypress Grove (Skip James, arr. Soldier)
Scores and recordings published by Rigglius Music (ASCAP) and can be downloaded from davesoldier.com
Other Publishing
PARIS 1919 GARNANT MUSIC
PREACHIN BLUES HANDLE BAR MUSIC
BO DIDDLEY BMG PLATINUM SONGS
IN TIME SONY/ATV SONGS LLC
WATER BABIES KOBALT MUSIC PUB

Reviews coming