Sylvain Leroux
"Les Enfants de Tyabala"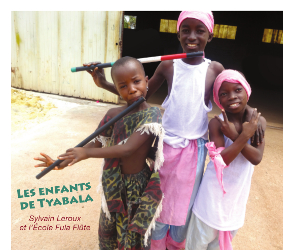 $13.99 | CD | Catalog #MUL029


"We are in Conakry in an industrial hangar near a soccer field, people are passing by, construction is going on across the way, sometimes other art companies share the space which is run by the local "Maison des Jeunes" (Youth House). The hangar serves as classroom, rehearsal space, office, print shop, studio, kitchen, dormitory, storage, used car parking lot and concert hall. I am here with 12 kids ages 4 to 16 who are students at the Centre Tyabala Théâtre de Guinée where they receive a primary education and training in the arts of music theatre. Thanks to the wisdom of their director, Mr. Mohamed "Momo" Sylla, I am allowed to work intensively with them and for the last 3-1/2 months we have been studying flute playing and music theory and we are now recording the music that we have learned. We invite you to put on your headphones, close your eyes and join us in Taouyah with Bonfils, Abdoulaye, Fatoumata, Aboubacar, Seydouba, Soumah, Koumbassa, Naby, Sidiki, Conté, Allassane and Mahawa.
The funds for this projects were provided by generous people who were inspired by the idea presented in the Music Literacy Project for Guinea on Kickstarter last year. You know who you are and I thank you from the bottom of my heart. This album is for you."   —Sylvain Leroux
Bonfils Solo   (0:55)
Kaïra Part 1   (1:25)
Kaïra Part 2   (3:00)
Nous Sommes Contents   (4:27) 
Dangui   (2:44)
Allassane Solo   (0:48)
Gamalataki for Adam   (2:57)
For Karl   (3:58)
Hymne à la Joie   (2:58)
For Edna   (4:06)
Solo de Seydouba   (0:41)
Les 4 Niveaux de la Flûte   (1:07)
Soundjata   (4:40)
No Fear   (4:00)
Agnokhon   (5:22)
Mahawa Solo   (0:43)
Read more on Fula Flute in Guinea
Please consider donating to these wonderful ongoing projects