Dave Soldier
"Naked Revolution - A Russian Opera"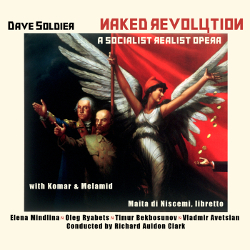 $13.99 | CD | Catalog #MUL041

listen on Youtube
listen on Spotify
listen on
Apple Music
A socialist realist opera drawn from immigrant dreams
music by Dave Soldier
libretto by Maita di Niscemi
created with Vitaly Komar and Alex Melamid
artwork by Komar & Melamid from their collection American Dreams, created for the opera
The Manhattan Chamber Orchestra
conducted by Richard Auldon Clark
Choir
: Alicia Waller, Natasha Thweatt, Sahoko Sako Timpone, Yilong Li, Lindell Carter, Charles Coleman
and
featuring
Yuri Lemeshev, accordion
Jimmy Justice: King George III, a.k.a.
the Man in the Moon
Soloists:
Elena Mindlina, soprano:  Molly Pitcher/ Russian soothsayer/ Baba Yaga / Vera Pavlovna/ Isadora Duncan
Oleg Ryabets, countertenor:  Vladimir Lenin
Timur Bekbosunov, tenor:  Alexander Ulyanov/ Civilian George Washington (George I)
Vladimir Avetsian, baritone:  General George Washington (George II)
Act  I 
New York City, 1776, Bowling Green
1. Truth, truth, truth           
2. Heave ho boys           
3. Washington's entrance       
4. Bullets               
5. I was not my father's eldest son              
Act II
Moscow, 1917
6. Russian maiden's trio
7. When the Devil comes to Moscow
8. And when you see a fire
9. Lenin at Smolny
Act III
New York City, 1989, Washington Square
10. Remember
11. Lenin's entrance
12. I still remember
13. Lenin and Washington's trio
14. Oh no
15. Sing of nature
16. Hysteria
Orchestra
, Oleg Ryabets, and Jimmy Justice recorded at the Kitchen in 1997 by
Rory Young. The other vocals are recorded by Dave Soldier and Sam Palombo at Dubway Studios, 2017-2018. Mixed by Patrick Derivaz,
mastered by Sheldon Steiger.
Artwork by Komar & Melamid
CD design and layout by Detta Andreana
Thanks to Anna Halberstadt, Ben Neill,
the Kitchen, David Herskovits, Nadia Roden,
Leah Singer, the Walker Arts Center,
Gail Scott White, and Kirby Malone.

Reviews coming