Archer Spade
"Orbital Harmony"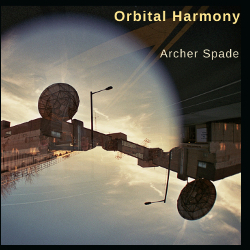 $13.99 | CD | Catalog #MUL031

MP3:  Fractal on the Name of Haydn
MP3:  Our Private Sky

Archer Spade is a chamber duo comprised of trombonist Dan Blacksberg and electric guitarist Nick Millevoi. They are developing a repertoire of music for their instrumentation. A giant leap forward for guitar and trombone duos everywhere!

Orbital Harmony features new works by Mick Barr, Gene Coleman, Johnny DeBlase, Dave Soldier and Blacksberg and Millevoi composed for Archer Spade. The music features tonal melodicism, harsh chromaticism, textural investigations, and deep harmonic interplay. 
Archer Spade:
Dan Blacksberg – Trombone
Nick Millevoi – Electric Guitar
1. Fractal on the Name of Haydn  3:05    (Dave Soldier)
2-13. Sound Matrix    (Johnny Deblase)
    2.   Cell   1  0:54
    3.   Cell   2  0:54
    4.   Cell   3  1:03
    5.   Cell   4  1:17
    6.   Cell   5  1:54
    7.   Cell   6  1:08
    8.   Cell   7  1:11
    9.   Cell   8  0:46
  10.   Cell   9  1:19
  11.   Cell 10  1:13
  12.   Cell 11  1:51
  13.   Cell 12  1:47
  14.   TCHMENTREACH  7:12    (Mick Barr)
  15.   Holographic Tubing  11:03    (Dan Blacksberg/
          Nick Millevoi)
  16.   Our Private Sky  15:26   (Gene Coleman)
Track 1 composed by Dave Soldier, Rigglius Music (ASCAP)
Tracks 2-13 composed by Johnny DeBlase, Buddy Snacks Music (ASCAP)
Track 14 composed by Mick Barr, All Rights Reserved
Track 15 composed by Dan Blacksberg/Nick Millevoi, Illuminent Music (ASCAP) and Circlesperanto (ASCAP)
Track 16 composed by Gene Coleman, Lontano Music (ASCAP)
Recorded by Eric Carbonara
Tracks 1, 14, and 16 Recorded at Forge Recording, March 15th, 2014
Tracks 2-13, and 15 recorded at Nada Sound Studio August 11th & 12th, 2012
Mixed by Eric Carbonara at Nada Studios
Mastered by Rory Young at Acme Recording Studios
Thank you to everyone who helped us through the production of this album, supported the commissioning of these pieces, and has lent their support to Archer Spade. Thanks also to Eric Carbonara, Mark Christman, Kinan Faham, Christiana Kugel, Julius Masri, and Katie Rey.
Special thanks go to Dave, Johnny, Mick, and Gene for their music.
archerspademusic.com


Reviews coming