Various Artists
"Globalista Radio-Sensual Sonores"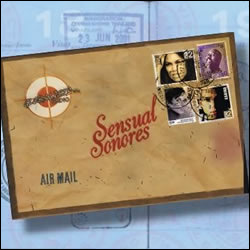 Order from MulattaPop
Release date: September 29, 2006
MP3s:
Himatsuri
(by Bliki Circus, remixed by Ayo and Time 'Love' Lee)
Tarifa
(by Zeb, remixed by Ayo)
This compilation highlights the budgeoning NY City Ethno Dance/Lounge culture as heard in music played in many of the newer clubs and lounge bars, particularly in the East Village of Manhattan. East-European Gypsy, Brazil samba, French pop, Indian bhangra, Andalusian flamenco and Afro-funk with many of the songs processed through an aural prism of lush sensual electronica.
The Artists featured include:
Shakti
,
Karina Zeviani
,
ElodieO
,
Zeb
,
Mandeng Eletrik
,
Bliki Circus
and
Organic Grooves
, with remixes by
Tim 'Love' Lee
and
Cosmic Rocker
.