Nine Live plays the music of John Clark
"Sonus Inenarrabilis"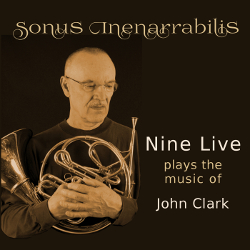 $13.99 | CD | Catalog #MUL033


1. Sibilia Colubri  6:01
2. Die Kreuzotter 6:30
3. Turbulence  6:14
4. Eviter les Contrefaçons  6:43
5. Freedom?s Delight  6:55
6. Outage  5:08
all compositions ©? Hidden Meaning Music, BMI
Thanks:
First and foremost, to
Dave Soldier - the album was his idea! Some of these pieces are fairly recent and some not so much (e.g. 'Turbulence', 1984). I always felt ?Oh well, maybe someday?? but it was Dave?s awesome idea, from when we played 'Outage' with the CompCord Ensemble, on a program Dan Cooper had dubbed 'Nine Live', to bring this mixed nonet into the studio for an album.
Second, to the musicians:
Kinan Azmeh - clarinet, Lynn Bechtold - violin, John Clark - horn, Dan Cooper - 7 string electric bass, Jennifer DeVore - cello, Stephanie Griffin - viola, Cesare Papetti - drums,   Michael Rabinowitz - bassoon, Rob Stephens - keyboards. Thomas Carlo Bo - conductor
Third, to everyone who participated in the pre-production, editing & mixing:
Thomas Carlo Bo, Dan Cooper, Abe Fogle, Cesare Papetti, Sheldon Steiger
Recorded at Dubway Recording, NYC February 2, 2014
Engineer:  Rory Young
Producer:  Dave Soldier
Cover Photo:  Bruce Phillips
For further info about this recording, please go to www.hmmusic.com

"
Sonus Inenarrabilis: Nine Live Plays the Music of John Clark
Though its name translates as ?undefinable sound,?
Sonus Inenarrabilis delivers an exciting and soulful blend of jazz, classical, funk and more.

Some music just won?t be pigeonholed, including the collection of compositions presented in Sonus Inenarrabilis. To do justice to this adventurous and haunting melding of diverse influences, you have to apply the immortal Duke Ellington?s highest compliment: It?s beyond category.

Sonus Inenarrabilis, released on Dave Soldier?s Mulatta Records label (www.m ulatta.org), features six jazz-inflected compositions by John Clark, rendered by a nonet starring instruments more commonly associated with symphonic music, including French Horn, Bassoon, Viola, and Cello. Album highlights include:
?Die Kre uzotter,? a moody, noir-ish piece with a slightly dangerous 2 a.m. feel.
?Eviter les Contrefaçons,? which translates to the wise advice ?avoid imitations.? With a sensuous Mediterranean vibe that occasionally e vokes Moorish Spain, this is the real thing.
?Free dom's Delight? has a sweeping, almost pastoral beauty.
The stately, mysterious ?Outage? features dramatic strings. Listen carefully, you won?t want to miss a note.
?Sibilia Colubri? delights with a beautiful, rich piano intro, great rhythm, and a graceful flow.
?Turbulence? takes the listener on a sonic adventure. Its deeply funky feel and great bass line contribute to the tune?s tons of swagger.
All of the music is written and arranged by French Horn master John Clark, who has released a series of jazz albums as a leader; his latest recording The Odd Couple Quintet +1 was pre-nominated for a 2015 Grammy.
The album?s title, Sonus Inenarrabilis, recognizes the diverse influences, expression and musical experiences that come together here. But Clark?s music practically requires the invention of new superlatives by those aiming to define it. Duke Ellington said there are only two k inds of music, good and bad. A single listen to this eclectic new offering from Nine Live confirms that it belongs firmly in the first category." - Jim Eigo Jazz Promo, www.jazzpromoservices.com