Dave Soldier & Eliza Carthy
"Dean Swift's Satyrs for the Very Very Young"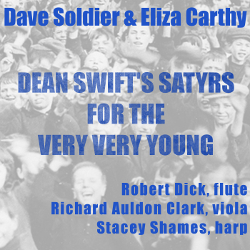 $13.99 | CD | Catalog #MUL034

listen on Youtube
listen on Spotify
listen on
Apple Music
listen on
Bandcamp
Lyrics by Jonathan Swift, 1667-1745
Helter Skelter has a traditional tune, The Little Pack of Tailors as sung
by Elizabeth Cronin. The Maids of Mitchelstown is a traditional reel from a recording by the Bothy Band.
The original melody of O'Rourke's Planxty is derived from a collaboration between the composer Turlough O'Carolan with the original poet in Gaelic, Hugh Mac Gouran, and Swift, who translated Mac Gouran's poem to English for O'Carolan. Only the melody survives, and I use fragments of it.
Tracks
  1 Maids of Mitchelstown, a reel
  2 The Bubble, a hornpipe / sea chantey
  3 ON THE SUDDEN DRYING UP OF ST. PATRICK'S WELL NEAR TRINITY COLLEGE, DUBLIN 1726
  4 Elegy for the Death of a Late FAMOUS GENERAL
  5 A description of the morning
  6 A description of an Irish Feast, a planxty
  7 Stella's birthday March 13 1719
  8 Helter Skelter: the hue and cry after the attorneys going to ride the circuit
  9 Rhapsody: On poetry, a rhapsody
10 An Elegy ON THE DEATH OF DEMAR, THE USURER; WHO DIED ON THE 6TH OF JULY,1720
12 The Death of Dean Swift, a jig
"Stella's Birthday uses the melody of O'Carolan's Si Bheag Si Mhor.
The other themes may use Celtic forms but are my own inventions."
-Dave Soldier, New York City, April 12, 2011
Eliza Carthy, vocals
Robert Dick, flute, piccolo, bass flute
Richard Auldon Clark, viola
Stacey Shames, harp
Recorded and mixed by Rory Young
Mastered by Sheldon Steiger
Art by Detta Adreana
Thanks to Paul Hillier for suggesting this project, Winsome Brown for artistic suggestions, Wilbur Pauley for support, Richard Auldon Clark and the Manhattan Chamber Orchestra for performing the piece live

Reviews coming